Your home is your castle. When you are camping, your tent is your home. Therefore, your tent is your castle. There are thousands of tents to choose from, so it can be a little overwhelming to choose.
In fact, I've written an article about how much money to spend on a tent which covers assessing your needs for how much tent you want to buy.
Right now, I only have one favorite tent. But, we are planning on buying a bigger tent, soon, so I will go through all the research again to find a good 4-person tent.
My current favorite tent is the Kelty Grand Mesa 2-person Tent.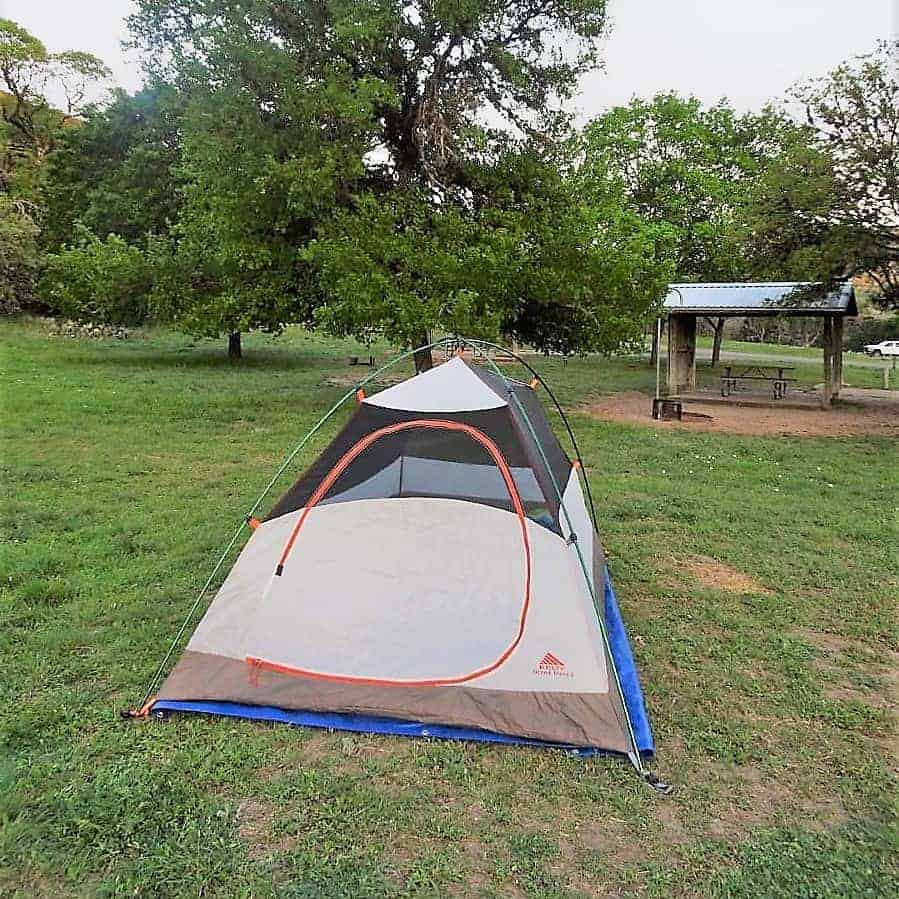 Why is the Kelty Grand Mesa 2-person Tent My Favorite Tent?
I spent around $120 for my 2-person Grand Mesa tent. And since then, it's held up fantastically.
Durable
Since 2014, my Kelty Grand Mesa tent has been pitched:
Over a dozen locations in the North and South Islands of New Zealand
On a backpacking thru-hike in Arkansas
~10 Texas State Parks in Southeast Texas, many of these for multiple visits
On beaches near Corpus Christi
There are a couple holes in the bottom of the tent, but we haven't faced any ill effects from that.
Incredibly Simple To Setup
The Kelty Grand Mesa tent has two shock cord poles that extend connecting the 4 corners of the tent in an X. The poles connect to clips on the tent and are then bent into grommets on the corners, which gives the tent its dome shape. The tent fly is then thrown over the top, and buckled in on the 4 corners.
You can then then guy out the tent fly using the provided guy lines. To be honest… I have only done this a few times. I sometimes will just pitch with only one stake for the vestibule.
This process might take you 5 minutes, depending on how much you want to put stakes in.
Small Footprint
For me, this is a plus. I often will see gargantuan tents with just two people in it. Having a big tent isn't always a plus, since with a bigger tent, you inevitably will have to spend more time in setup.
The tent is 85 inches long. I am 5'9, and I fit comfortably. My wife is fairly short, so we both fit in the tent without issue.
Vestibule
The tent fly creates a vestibule if you stretch out the front of the tent with a guy line and a stake. This is a great place for shoes or a bag that you want to keep dry.
Sky Visibility
The tent has just enough mesh in the walls to allow for good sky visibility if you sleep without the tent fly. Sleeping without a tent fly is always risky, but it's a fantastic experience on the beach.
Handy pockets
There are pockets in two of the corners where you can put stuff like your wallet and keys that you don't want to scatter with all the rest of your stuff. It's a small perk, but it's nice.
Summary
It's been a great little tent, and I recommend the 2-person tent for anybody wanting to get into camping–backpacking or car camping. I can't speak for the dimensions of the 4-person tent since I have not tried it, myself.
What I Wish Was Better
Weak Tent Stakes
The Kelty 2-person tent is a very simple, no frills tent. The tent is designed to be lightweight, which is ideal backpackers. When I purchased mine, the tent stakes were aluminum. Aluminum stakes are great for backpacking because of their light weight, but aren't great for car camping in really hard packed soil.
To be fair, this isn't the fault of the tent since they aimed for a lightweight tent rather than a base-camp style tent.
Bottom of Tent Durability
Even though it is probably my fault that the holes are there, it is still something I should mention. I've had it for 5 years, and there are a couple small holes (both around a quarter of the diameter of a dime) in the bottom of the tent. I have always used a tarp underneath the tent, and some argue that putting the tarp under the tent causes the fabric to stretch, which makes holes. I haven't field tested this theory myself, but that is one theory.
I think that after 5 years of regular use, having a couple holes in the bottom isn't bad at all.