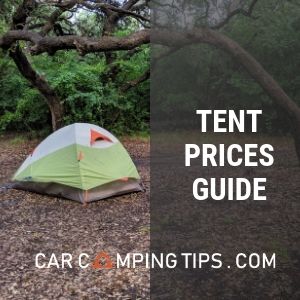 There are a LOT of tents out there. It's genuinely frightening to try buying one because you're never sure if you paid too much (or too little) for the tent you need.
I decided to scour the internet and research the different tents in the different price categories. These tent prices will change all the time, BUT, but the model of the tent will receive revisions but stay in the same price category. So even if a particular tent version doesn't exist, anymore, you'll still be able to find a newer version of the same model and be assured you're getting the same amount of tent you were before.
Believe it or not, it was surprisingly difficult to find tents correctly labelled and categorized online. I've done the work for you, and found some of the more popular tents in each category.
Price Categories
These price categories will help give an idea of the price range you should expect to pay within the tent style category.
| | |
| --- | --- |
| Price Category | Description |
| Budget | On the cheap side. Your tent may be missing features that more expensive tents have, and will likely not be as durable and have the same quality of weatherproofing that more expensive tents have. These tents should last at least a couple years of occasional use. |
| Standard | The middle of the road. Not too expensive, not too cheap. A tent in this price category will have decent weatherproofing, and decent durability. A tent in this category can last for several years before having any issues if taken care of. |
| High-end | This price category for tents will include higher durability, more features, and higher quality weatherproofing than the other tents in the same category. A tent in this category can also last for years if taken care of properly. |
Tent Camping Styles
Now that you know the price category, it's time to pick what kind of tent camping style category you are! Although I haven't tried to sleep in all of these tents, (my favorite tent that I use I talk about here), I have looked for the features to match your needs
Category 1: Only Once or Twice Camper
If you aren't planning on getting into camping, but are camping for a couple of nights then the ideal amount of money to pay is $0, because the best idea is to borrow a tent from a friend (make sure you keep the tent clean or wash it if it gets dirty once you are done with it). You aren't as concerned with durability or how weatherproof the tent is because you can always make it through one night uncomfortably.
Keywords To Search For
N/A
Price Ranges to Expect
Budget: $0
Standard: $0-50
High-end: $50-100
Examples of Tents To Purchase In This Category
---
Category 2: Casual Car Camper
You enjoy camping, and you plan on going at least 4 times per year. You want a tent that is durable, and is able to withstand the elements.
You can handle putting up larger tents and you don't need tents that are lightweight, and you like some cool features, but you don't live in your tent, so all in all you are okay with basic. For tents in the budget and standard categories, you definitely should do your own weatherproofing.
Keywords To Search For
Family Tent
Car Camping Tent
Price Ranges to Expect
Budget: $40-70
Standard: $70-120
High-end: $120-200 (typically large 10-person tents will fall in this range)
Examples of Tents To Purchase In This Category
---
Category 3: Backpacker
Backpackers have a lot of unique concerns when it comes to picking out a tent. Weight is by far one of the most important concerns, as you will be carrying your backpack for miles. You should aim to carry 5 lbs worth of tent for every 2 people. Lightweight and durable tents are much more expensive, and will sometimes achieve this by not including poles, but rely on you to provide your own trekking poles.
Additionally, though. Weatherproofing is especially important for backpackers. If your tent sacrificed on weatherproofing in favor of weight, it's a good idea to do your own weatherproofing. While car camping, a wet tent is unpleasant, but there is always the last ditch option of your car if it gets too wet or cold. While backpacking, a wet tent can mean wet clothing, which means blisters. Or, a wet tent can lead to hypothermia if you are in remote and cold conditions.
Keywords To Search For
Backpacking Tent
Lightweight Tent
Trekking Pole Tent
Price Ranges to Expect
Budget: $50-100
Standard: $100-160
High-end: $160-250
Examples of Tents To Purchase In This Category
| | |
| --- | --- |
| Price Category | Tent Example (click to see exact price) |
| Budget | River Country Trekking Pole Tent from Amazon. Budget backpacking tents under $70 are not generally heard of, but this tent seems to be an exception and is very popular. It's a trekking pole tent so it will require more setup time than a dome tent. Many people complain about this tent, however, that its waterproofing leaves something to be desired. Make sure and perform your own waterproofing if you decide on a tent in this price range. |
| Budget | Bessport Camping Tent 2-Person Tent from Amazon |
| Standard | Hyke and Byke 1&2-person Backpacking Tent from Amazon. Comes with two doors, which is pretty cool. |
| Standard | Kelty Grand Mesa 2-Person Tent from Amazon. This is the tent I use, actually. It's been pitched in a couple of countries, and in sight of 4 different oceans. Love this little guy. |
| Standard | Kelty Escape 2 Tent from REI. Very similar to the Grand Mesa design. |
| High-end | Big Agnes Frying Pan 2-Person from REI. The walls are flared out which gives you more room to move around in the tent, but still comes in at around 5 lbs. |
| High-end | Kelty Late Start 4-person Backpacking Tent from Amazon. The late start tents are tinted to block some of the light so you can sleep in. The seams are also waterproof treated to keep you dry in unfavorable conditions. |
| High-end | Alps Mountaineering Aries 3-Person Tent from Amazon. |
---
Category 4: Long-term Camper
Long-term can mean a week, or it can mean several weeks, or even longer. Long-term campers aren't concerned about weight, because they want a base-camp that they can come back to from hunting, fishing, or kayaking, or whatever else. They don't want to skimp on comfort since they are going to be in nature for long periods of time.
On top of that, a long-term camper may be with a group of over 15 people–at this point it's really important for the tent to withstand lots of in-and-out foot traffic.
Because durability and comfort are the long-term campers goal, than it's time to think about canvas tents.
Keywords To Search For
Canvas Tent
Wilderness/Hunting Tent
Price Ranges to Expect
Budget: $200-300
Standard: $300-600
High-end: $600-1500
Examples of Tents To Purchase In This Category
---
Category 5: Extreme Weather Camping
Camping in the summer is a completely different experience than camping in the winter. Consequently, tents made for extreme weather conditions have several important features making it possible to survive and even reasonably tolerate cold weather.
Wet and cold are often cruelly paired together, and when you are camping in snow, it's still vitally important to ensure that everything stays dry. In the summer, your clothes will eventually dry out as you wear them, but in the winter, letting your clothes become damp means you may be dealing with a dangerous amount of cold. Because of this, ventilation, tent material and tent waterproofing are critical for success.
Keywords To Search For
4-season tent
Snow Skirt (the outer wall goes to the ground)
All-season
Price Ranges to Expect
Budget: $100-200
Standard: $200-400
High-end: $400-800
Examples of Tents To Purchase In This Category
---
Category 6: Ultralight Backpacker
Haven't we already talked about backpackers? Well, yes. But, the term "ultralight" is a different category all on its own. Growing up, when we went backpacking–I know my dad's pack was 60 lbs and over. I remember when one year when he took 3 bottles of propane (the big green containers).
We were technically still backpacking, but not ultralight. Ultralight backpackers are aiming for a base pack weight of 20 lbs (before food, water, consumables). This is extremely relevant to thru-hikers wanting to go on the big hikes, such as the Appalachian Trail (2200 miles, one way).
An option many ultralight backpackers go is to avoid getting a tent at all, and instead getting a tarp shelter in efforts to save on weight. Mind you, this isn't inexpensive either. Since your tarp is your only shelter, and you want something strong and lightweight, these tarp shelters can still cost a lot of money. Tarp shelters are not good for winter weather, and not awesome for fall weather either if you don't have a really good sleeping bag.
Keywords To Search For
Ultralight Tent
Tarp Shelter
Single-wall Tents
Price Ranges to Expect
Budget: $50-150
Standard: $150-400
High-end: $400-650
Examples of Tents To Purchase In This Category
---
Category 6: Specialty
This category is a little tricky, since the niches for these tents can range in size dramatically.
Portaledge (tents you hang in on the side of a cliff) tents vary in prices from $600 to $1000
Rooftop tents (overlanding) start at $800
Bubble tents (super glamping) start around $1000
Upgrades
So… tents vary in prices. A lot. However, there are a couple things you can do to upgrade your tent to the next level of protection without buying a specialized tent.
Waterproof spray: Campers often will treat their already water-treated tents to give some extra water protection. This waterproof spray doesn't last forever, but should be applied every season or every other season. This can take your tent's protection up a notch. Spray while the tent is pitched and allow to dry as per the instructions. Kiwi waterproof spray from Amazon.
Seam Sealer: This is specifically for tent patches and for tent seams. If your tent seams aren't weatherproofed, this can be a solution for you! 🙂 Gear Aid Seam Grip from Amazon
Seam Tape: Seam tape can be used to seal seams, and it's also very useful for torn tents or clothing. Gear Aid Tenacious Tape from Amazon.
Ground Cloth: You can use a tarp that you can buy from your local hardware store, or you can use a ground cloth specifically for your tent. Many people say that ground cloths specifically for your tent are more money than they are worth, but they will already match in size and in shape. There are other DIY options like Tyvek home wrap, and roofing plastic.
Tarp cover: Any tent's ability to protect you can be doubled or tripled by using tarps as sunscreens, rain canopies, or as windscreens. Even if you didn't buy the most expensive tent with all the features, you can have the same level of protection if you get clever with your tarps. See my article on other tarp uses here for ideas.