Favorite Pan For Camping
Choosing a pan can be complicated because there are many types of camping, and different people who camp have different needs. The camping we most often do is car camping. Because of this, weight isn't a big issue, so me and my wife's specific needs are:
Durability. We often cook over an open fire
Versatility. We want cookware we can use for multiple dishes without bringing our entire kitchen from home
Long Lasting. Since we go camping frequently, we want to use cookware that we don't have to replace
Nonstick. We like washing dishes while camping to be as simple as possible
As you might expect: Cast iron wins!
Why We Use Our Lodge Cast Iron Skillet For Car Camping
We love using our 10″ Lodge skillet, which we got as a wedding present. Lodge cast iron is pretty easy to find… it's available on Amazon, and in many outdoor stores, including Academy, if you live in San Antonio or Austin.
The pan is super tough. You can put cast iron directly on coals to cook your food, which makes it really versatile, as you can use a regular camp stove or a campfire to cook your food. We have used our Lodge skillet many times this way, and it works well. Some people pass down cast iron pans as heirlooms. We only have 4 years on our Lodge skillet, so time will tell.
The pan has great nonstick properties if you take care of it. Even eggs are not a problem if you make sure and use oil as you cook.
Our Lodge skillet is pretty versatile… we cook meat, vegetables, eggs, sauces occasionally, … I can't really think what we don't cook with it.
Confession: we actually use our Lodge skillet on our stove, on a daily basis in our kitchen at home, and we just take it with us while we camp.
Pro Tip: If you don't have a camping skillet just for camping, transporting your cast iron skillet can get a little sticky because of the oil. We just put our's in a grocery bag to transport it back and forth to our campsite.
Stuff You Should Know Before You Buy
What Comes With the Lodge Cast Iron 10″ skillet?
Many times the skillet will just come with the pan. Lodge does sell combo packs where the skillet can come with a couple other things, such as a silicone handle, or sometimes the skillet is made to go with a dutch oven as a lid.
Learning Curve and Extra Care
Cast iron requires some specific treatment different from other pans. Here are some DOs:
DO season your pan before use. Seasoning your pan means to put your pan in contact with oil while it's hot so the oil can seep into the pores of the pan.
DO rub vegetable oil on the inside after every use (that's the technically correct answer. We only occasionally do this and it works fine. Mostly because most of the food we eat we cook with oil anyway)
Some DON'Ts
DON'T wash your cast iron with soap as this removes the seasoning (Ahem… sometimes we use a little soap when necessary, but we season the pan after… it's fine.)
DON'T leave water in your pan. This causes your pan to rust. Wipe it out well or heat up the pan to evaporate the water.
DON'T put cold water in a hot pan. This rapid temperature change can cause the cast iron to crack.
If you feel hesitant because of the learning curve… this video is awesome because it goes through everything. It's really not too much of a hassle, I promise.
Silicone Accessories Not Indestructible
Much of Lodge's cookware comes with a silicone handle as shown in the picture. You can also buy the silicone handle separately. Although this withstands high heat, it is not indestructible, as you can see from the picture above, our's is damaged, since we leave our silicone handle on the skillet all the time, because it's safer and much more convenient in the kitchen.
Favorite Cast Iron Griddle
Lodge makes a cast iron griddle that's reversible, meaning it has the grill pattern on one side, and it has a flat surface on the other. This versatility is awesome, because you can get the grilling texture on your food without firing up your charcoal BBQ stove.
We use our Lodge LPGI3 Pro-Grid Cast Iron every day. It's on two of our kitchen burners on a semi-permanent basis (meaning all the time). We cook eggs, pancakes, bacon, quesadillas…basically everything. It's just great to have the real estate to cook everything you want at once.
One downside to this is that because of its large real estate, this guy is heavy. You cannot really handle the griddle with one hand–you have to use two hands to pick it up, to wash it, and carry it around.
Since we, truth be told, almost leave it exclusively on the stove, it works out for us.
Favorite Backpacking Stove
I've been using my Alpertie backpacking stove since 2014. It's a small stove that folds out to a 7-inch diameter, which works well for our 10″ cast iron stove. It weighs 7.9 ounces in the case. It's heavier than a more expensive backpacking stove, but it works really well for car camping.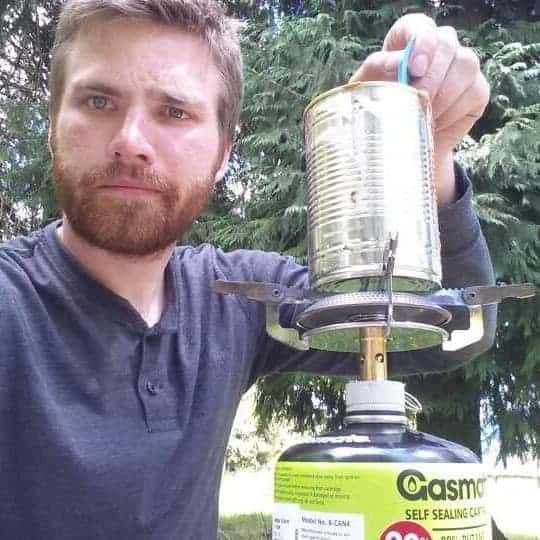 I used this with pots and pans, but sometimes I would take off the label of a can and just cook the food in the can, directly.
It folds very small, into about a 3 x 3 inch square pouch.
This is a fantastic stove if you are wanting to get into car camping without buying an expensive stove. You can cook anything that you can cook in a pan without any issues. It definitely will work for your backpacking trip–it is probably not the perfect stove for the big through hikes because it is a little heavier with the gas canister then the more expensive brands and models.
Remember to buy a camping butane canister as you see in the picture, as it has a wide base which comes in handy since the camping stove connects directly to the gas canister.