Have you ever thought about how the length of your skiing coat or jacket might affect the way you ski? Or perhaps how quickly you get cold? We'll weigh up the pros and cons of having a long jacket to help you make an informed decision next time you make a purchase for the powder!
Coat length for skiing and snowboarding should be between 1 to 5 inches past the top of the hip bone (iliac crest). Longer coats than this range coats will impact mobility and increase drag. However, whether you ski in a shorter or longer jacket is up to your own personal style preference.
While style and the aesthetic you're going for on the slopes depends on the length of ski jacket you should go for, there are some other factors that come into play. We'll look at jacket features, style of skiing, and other things that might play a role in whether you choose a longer ski jacket or not.
By the way, as an Amazon Associate, I earn when buying qualified products through links on my site.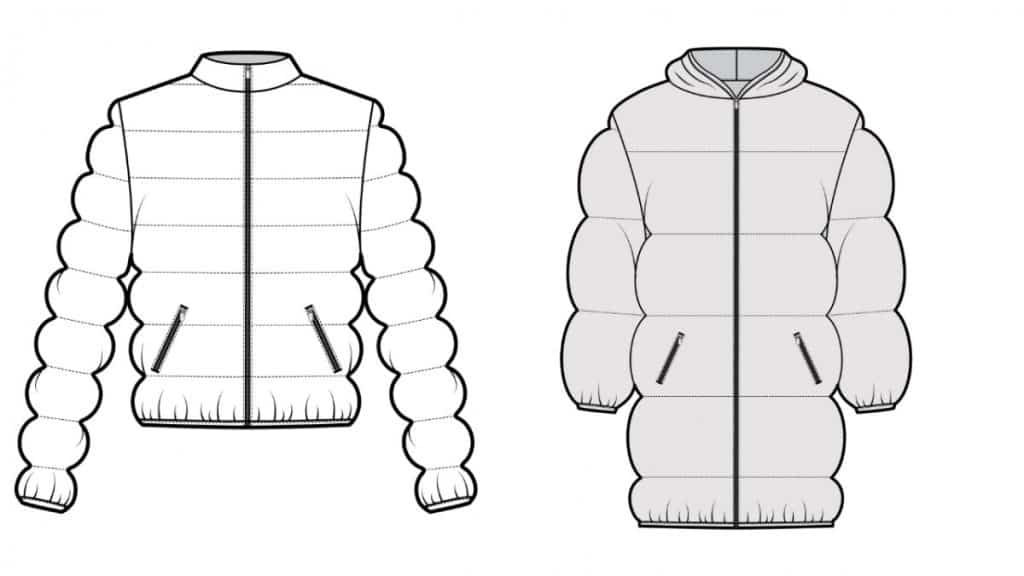 Pros And Cons Of A Longer Ski Jacket
Longer jackets have more traditionally been worn by snowboarders and not by skiers. Skiers have typically had a more fitted and streamlined silhouette with cleaner block colors, where snowboarders have had a brighter, more urban style and loosely fitted clothing. This is changing, with some skiers preferring a longer and more loose-fitting style of jacket, and is particularly favored by those who ski in a park.
Pros of a Longer Ski Jacket
More coverage
Freedom of arm movement
Powder skirt
Cons of a Longer Ski Jacket
Restrictive leg movement
Feels bulkier
Extra weight
Not necessarily warmer
How Long Should A Ski Coat Be?
A ski jacket should at the very least be long enough that it covers the top of your ski pants, so as not to leave any skin exposed to the cold and wind often experienced high up in the mountains. This is especially important given that the stance of skiers is usually forward-leaning with bent legs, meaning that even leaning forward, the ski jacket should be long enough to keep you covered – an important position for trying on your jacket before you buy it!
Furthermore, it's worth thinking about the inevitable crash (especially if you're a beginner skier/snowboarder)–if your coat parts ways with your pants revealing your lower back or tummy when you raise your arms, then you're going to get snow in all of those places when you fall down.
Remember The Skiing Position
Skiers need to constantly be leaning forward in order to center their balance over the middle of the skis. With changing mountain terrain, skiers need to have the flexibility to adjust and maintain their balance. With legs fixed in a bent position, mostly moving up and down, much of the movement is in the upper body – meaning that it is important that the jacket allows for flexibility.
Advantages of a Long Snow Coat
Long ski jackets provide extra coverage in case you fall (one of the reasons they are typically worn by snowboarders, who spend more time sitting in the snow than skiers).
A longer cut of snow coat provides another layer between your body and the snow, protecting from the cold and possibly hard surface underneath you.
Long jackets, given their typically looser fit, usually provide more freedom of movement in the arms, which could be more comfortable for the skier. This is very much a personal preference and depends on what feels most comfortable.
Long jackets, like some shorter ones, are fitted with a powder skirt. Powder skirts are built in protectors, fastening around the waist to prevent snow from getting under the jacket.
Disadvantages of a Long Snow Coat
On the downside, there are also a couple of cons to skiing in a longer jacket.
Having a longer jacket can potentially limit the movement of the legs while skiing, particularly if it is not a loose enough cut. This could cause a fall or accident on the slopes – think of it as wearing a skirt and losing the flexibility that having pants on affords you.
In a similar way, your range of motion in your lower body could be limited by a coat or jacket that is too long, for example, past knee-length. This is also a more limiting and impractical choice for those backcountry skiing, where there is a lot of walking involved too. Your stride length makes a huge difference and if your coat is hindering you that's going to get annoying.
One might expect that more coverage equals more warmth. This is not necessarily the case! Depending on the fit of the longer jacket, and the layers you have on underneath, a looser fitting longer jacket allows more cold air underneath it, and actually will keep you less warm than a shorter, more fitted jacket.
In fact, in really hot weather, loose clothing works well to cool you down for this very reason. Cold weather and loose clothing are not a good combo.
In addition to the warmth factor, longer jackets may simply feel bulkier to wear. On the mountain, when you're usually already wearing multiple layers to keep you warm and protect you from the winter mountain climate, having a closer fitting jacket can help you to feel more compact and less like the yeti you may feel like.
Which Type Of Jacket Is Best For Skiing?
It depends on what you're doing and the weather conditions:
| Type of Snow Coat | Activity | Conditions |
| --- | --- | --- |
| Waterproof Shell | Downhill Skiing | Mild winter weather (25F to 40F) with little wind |
| Insulated Shell | Downhill Skiing / Backcountry skiing | Cold winter weather (< 25F) or strong cold winds |
| Softshell | Downhill Skiing | Warm winter weather (> 40F or strong sun) with little wind |
| Technical Shell | Backcountry Skiing | Mild or cold winter weather with little to moderate wind |
Types of jackets in more detail at BackCountry.com
There are so many factors that come into a ski jacket decision, some based on technical specifications, and many of them simply down to personal preferences. For this reason, many people have more than one ski jacket, which will be used under different conditions or with different purposes in mind.
How much heat insulation you will need, the degree of waterproofing you require, and other gear you may be carrying could all play an important role in your selection of a ski jacket.
For example, if you are staying a week in a resort and will only go out for brief periods when the sun is shining and the air is still, then you will not need as much protection, so you could get by with a waterproof shell or even a softshell.
If you're backcountry skiing, staying in mountain huts, and both hiking and skiing in all sorts of conditions for an extended period, then you're going to at least want an insulated shell but even getting a technical shell might be the best idea so you can ventilate properly.
The best option is personal to your preferences as well as the circumstances, and our advice is to have a look at the guide below to get a sense of the factors you should be considering when buying a jacket, and then basing your decision on what is most relevant for you. If you tend to ski in a variety of conditions, it may be best to get an adjustable or 'all-round' type of jacket, or multiple jackets, depending on your time split in different ski contexts.
What Should I Look For When Buying A Ski Jacket?
Some features that you should keep in mind when buying a ski jacket:
Waterproof/water resistant
Insulated versus Shell versus 3 in 1 jackets  (see Backcountry's article for more in-depth information)
Pockets and compartments
Fit – length, bagginess, cut and ease of getting into/out of
Zips – sealed or not, and location or ease of access
Wind proof
Most jackets will come fitted with a hood that fits over your helmet, with a powder skirt inside and with pockets of some sort. The rest, including the color, is up to your personal preference.
There is a huge range in prices for ski jackets, dependent on the brand, the materials, and other production costs. Either way, your ski jacket is an investment and should last you multiple seasons on the slopes – so pick wisely, as you'll likely be wearing it time and again for the next few years!
What Should You Not Wear Skiing?
While there are many ski jacket options that give plenty of freedom for personal preferences, there are some possibilities that should be avoided.
There are some designer 'ski slope chic' looks that are just meant for the high street and are not practical for the mountains at all. One of these is oversized puffer jackets that are not at all waterproof and are large and bulky. Bear in mind practicalities, but note that this does not mean looking drab on the slopes or forsaking style!
Regular winter coats are meant for cities and not for the mountains. This is both from a style practicality as well as a fabric point of view, and long, bulky, gapey jackets or coats that don't fasten properly and are not water resistant should not be worn on the mountain. Many of them will leave you feeling like the wind is blowing straight through you on the slopes!
Bulky layers that will limit your range of motion – freedom of movement is essential.
Conclusion
While there are some definite wrongs when it comes to ski jackets, there are so many rights, and it's up to each skier to pick the most right for them.
With so many options that have all the practicalities you need on the slopes, you are almost left to decide on the color, length, and fit without restrictions, as your selection is so wide.
Most skiers opt for shorter rather than longer ski jackets, and one would think there is some wisdom in that from years of refined design, trial, and testing, but it is totally up to what you feel most comfortable in.