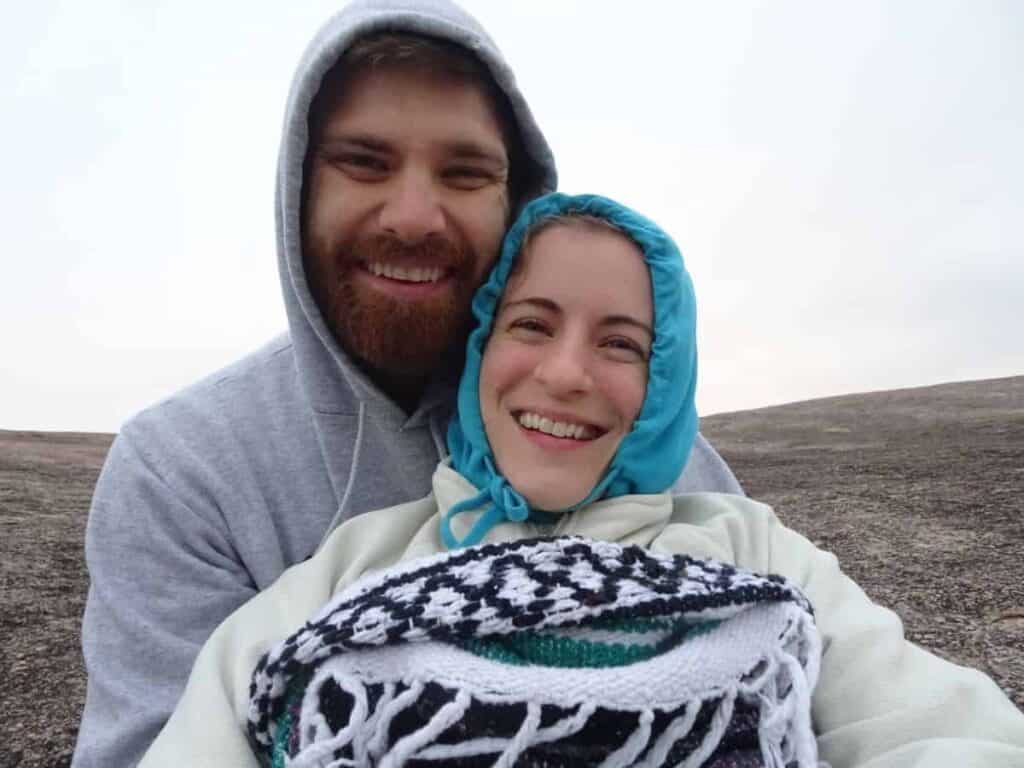 I wish I could say I have always been prepared for the cold while camping. I used to live in a more arid climate before moving to San Antonio, and I thought 40 degrees wasn't too bad at all! My overconfidence led me to one of the coldest and miserable nights I've ever had. So! You, dear reader, are not going to make those mistakes, and you'll be warm and toasty instead of cold and frosty.
---
Is it possible to go camping in 40 degree weather and not be miserable? You can have a great time camping with 40 degree weather. To stay warm, it's crucial to focus on the following:
Warm Clothing (thermals, beanies, jackets, socks)
Sleeping Bag
Extra Blankets
Sleeping Pad
Tent Preparation (people who hammock have more work to do)
There's a little more effort required in preparation, such as what extra clothing is necessary, and how to prepare your sleeping bag, tent, etc which I'll cover in this post. It's not too scary! It sounds daunting, but with a little bit of knowledge you can have a great time when it's a bit colder outside.
By the way, as an Amazon Associate, I earn when buying qualified products through links on my site.
Is the temperature going to dip into the 30s? I have some tips specific to this temperature range, here.
(Btw, this video is an example of some ideas of how to prevent getting too cold from your bedding and clothes while camping in cold weather)
What's It Like Camping in 40 Degree Weather?
Camping in 40-degrees Fahrenheit weather without the right clothes can be miserable. If there is any rain or wind, then the 40's goes from unpleasant to dangerous. However, with the right clothing and the right bedding, then camping in the 40's can be a blast.
What Clothing Do I Need?
I talk about what specifically you need in this type of weather, but I'm also working on the ultimate camping checklist that covers different situations (such as if it gets down to 40 degrees). Check out the ultimate camping checklist here.
Thermals
Long cozy pants
Fleece
Winter coat
Hoodie
Wool socks
Thermals
One item of clothing that I can't recommend enough are thermals, also called long johns.
There are tons of types of thermals, some just being plain cotton and others made of synthetic materials such as polyester and spandex. Thermals have different cold ratings and vary in quality and in warmth. They can be pretty pricey, and unless you are planning on extreme camping in sub-zero or in the snow, you can get good quality thermals for less than $75. Even the cheaper brands will do just fine for 40 degree weather.
The thermals I use I bought on Amazon and they have served me for many a chilly location. From cold blustery days in Texas, in California, and even in New Zealand! I have a list of clothing gear that I like and I have compiled it here.
In summary, I highly recommend thermals as a way to keep out the cold. Even if it's just in the 50 degree range, I like to wear thermals to be comfortable. Above that, they can definitely make things too warm.
Long pants
During my disaster camping experience I allude to in the intro I made one of the most rookie mistakes ever: I wore shorts.
I should explain that I grew up in Utah, and people in Utah are known to wear shorts in 0 degree weather. After officially testing this, I can say with authority: Super Bad Idea.
Wear long pants. Jeans are okay, but the more I've camped the more I've disliked jeans because they are heavy and take forever to dry. If you are car camping for a single night, I'd recommend sweat pants over jeans to give you some extra warmth.
I made the mistake of assuming that once I was in my sleeping bag, I'd be okay. Unless you have a sub-zero sleeping bag, I'd recommend wearing your thermals and those sweat pants to bed, as well.
Hoodie
Some people prefer to wear a big winter coat when camping, but I've always felt a little silly in a big winter coat when there's no snow to be seen. There are plenty of more stylish and warm options, but I prefer a big hoodie to all of them, for a couple of reasons:
Hoodies are comfy to sleep in
If it's cold, then you want the options of layers. If you only bring clothing that really makes sense to wear outside of your tent, then you may not be as comfortable when sleeping.
Hoodies offer additional head protection
Your head loses a TON of heat while you are sleeping and when you are out and about. In addition to a hat, your hoodie can also be drawn over your head to provide more protection.
Fleece
I have a fleece pullover that I consider to be one of my most valuable cold weather gear. Even if it's cold outside, I can comfortably stay outside for long periods of time. This isn't a necessity, but if your cold tolerance isn't super amazing (like me), and it's something that can make you more comfortable, then I'd recommend bringing some type of fleece if you have it.
Hat
I don't think this needs to be too complicated.
But don't underestimate its importance!
A simple wool/fleece beenie helps you stay warm around the campsite, and will help you retain some of that heat escaping from your noggin while you sleep.
Wool Socks
Just like everything, there are socks, and then there are expensive socks. On this point, I think, again, you don't have to break the bank, but good wool socks are a great investment. They are fantastic for hiking because they don't rub the same way cotton does–but long cozy woolen socks really can make your feet happy. Additionally, wool socks dry faster than cotton.
Remember, your toes are like little radiators, letting that precious heat escape from your body. Warm toes = happy life!
Other
Gloves
It's debatable whether you need gloves for 40 degree weather. If it's windy, take some. Your pockets will do a good job of keeping your hands warm, and I wouldn't say they are a must bring.
Last note on clothes: bring layers of warm clothing. It's always better to have too many layers than not enough.
What About My Sleeping Bag?
Ahh… the sleeping bag. This can be tricky. You can spend from $50 to $1000 on a sleeping bag. No exaggeration! Do you need a $1000 sleeping bag for 40 degree weather? Absolutely not.
Which Sleeping Bag Should I Buy?
If you are a casual car camper, then you likely don't want want to spend too much money on a sleeping bag. A bag in the $200 range will likely suit every circumstance you'd ever be in. An expensive bag will likely override any need to bring additional sleeping gear. If you are using a budget bag (like I am), then you will need to bring additional bedding to make your camping trip fun, and not miserable.
I personally use the Teton line of sleeping bags, currently. The model I use is under $100, and is advertised for the +5 degree Fahrenheit mark.
Bottom Line: You don't have to rush and buy the nicest sleeping bag out there. You can get by with a cheaper bag, only if you supplement. So, if you have a budget to middle-of-the-road sleeping bag and you're camping in the 40 degree weather range, and you want to sleep at night… bring extra blankets.
How many? I'd say bring all the blankets you don't mind being on the floor of a tent.
A Note about Sleeping Bag Temperature Ratings
The rated temperature does not mean you will be comfortable at that temperature. I would add at least 20-25 degrees to match closer to how cold you would actually be able to sleep at, as well as making other preparations, such as an adequate sleeping pad.
Do I Need a Sleeping Pad?
Short answer: yes
Besides adding some much desired cushion, a pad is critical for providing insulation between you and the ground. This pad doesn't have to be a literal camping pad but can be a thick blanket.
Do I Need to Do Anything Special For My Tent?
For the most part, no. If you set up your tent fully, then you will have done mostly what is needed. However, I don't always follow all the steps, so make sure and cover these set up steps:
Waterproof
Water is important in almost all cases to keep out of your tent, but it is especially important when it is cold. Don't sleep in wet clothing, or even clothing that's mildly sweaty. You can use a tarp (or whatever ground cloth material you prefer) underneath your tent (or inside it, depending on your preference) as a moisture barrier to keep water out.
Ventilation
Your tent most likely came with guy-lines. Guy-lines are cords that attach to portions of the tent fly to keep the fly taut and prevent it from touching the tent. These cords also attach to the vents of the tent and help with diverting rainwater, but they also are for keeping your tent ventilated.
Ventilation is crucial especially when it's cold outside (seemingly paradoxically), because it prevents condensation by helping the humid air in your tent evaporate (preventing condensation). Water is what you want to avoid in your clothes and your sleeping supplies.
In short, make sure you don't skip on using the guy-lines to make your tent fly taut.
Avoid the walls
You want your body to be in as little contact with the cold air outside your tent. The tent walls will suck out your warmth like some kind of alien.
Related Questions
Can I hammock in 40 degree weather: yes! But you need to put extra preparation into it. Additionally, you either have to get more creative on how to stuff more blankets into your hammock, or you have to invest in nicer gear. Additionally, it's very important to control wind and air flow because you don't have the same shelter that you do in a tent.
Can I use hand warmers to help me sleep better? yes, this is a great way to help you sleep. Some people use hot water bottles and sleep with the bottles inside their sleeping bag.
A note of caution and hilarity. My dad, thinking he was clever, got a rock near the fire to put that inside his sleeping bag. The rock was very hot, in fact… So hot, it melted a hole inside my dad's sleeping bag!
There are actually more systematic ways to use hot rocks, but generally the advice is to bury them underneath your tent. Since you are a car camper like us, this is a little over the top and not recommended for most campgrounds. 😉